Four years ago, Eli Manning couldn't get any respect. We all viewed him as Peyton Manning's little brother and the only reason he found himself in Super Bowl XLII was because the New York Giants team around him was so good.
He then proceeded to lead the Giants to one of the biggest upsets in Super Bowl history over the previously undefeated New England Patriots, winning the Super Bowl MVP in the process. None of it was accidental. Manning was brilliant.
Once we picked our jaws up off the floor, we all gave Manning some well-deserved respect.
Four years later, Manning still has our respect. And after the season he's had, none of us are making the mistake of sleeping on him again. He and the Giants are taking on the Patriots again and I'll speak for everyone when I say that the Giants have a very good chance of beating the Patriots again.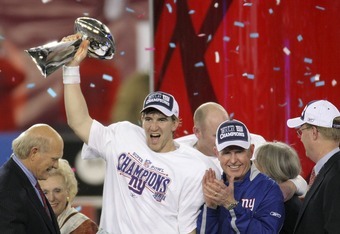 Doug Pensinger/Getty Images
They'll need a good game from Manning, of course. The Giants' defense should do a good job of keeping Tom Brady under wraps, but it will all be for naught if Manning doesn't come to play. The Giants are hoping he still has some of the magic he had back in 2008.
Maybe he does, maybe he doesn't. I can't say for sure.
What I can tell you is that Manning has all the ingredients for magic and that's something that should concern the Patriots.
Manning is a much different player now than he was four years ago. He's a lot smarter, a lot more aware in the pocket and he does a great job of limiting his mistakes. He no longer tries to force all of his throws. He anticipates routes, hangs in the pocket and then delivers the ball on target. His gunslinger habits have all but disappeared.
As if that wasn't enough, Manning has more toys to play with now than he did four years ago. Plaxico Burress was a great No. 1, but Manning has two great No. 1s now in Victor Cruz and Hakeem Nicks. To boot, Mario Manningham is not a bad third option.
Manning is going to be asked to hook up with these guys a lot in the Super Bowl. The Giants have two solid running backs in Ahmad Bradshaw and Brandon Jacobs, but neither of them can be counted on to produce yards on a consistent basis. The task of moving the Giants' offense will invariably fall to Manning
Moving the offense won't be too much trouble for Manning. Not against the Patriots. Their defense has been playing well in the postseason, but that doesn't mean the Pats suddenly have a great defense. It's weak, especially in the secondary. Against Manning and his merry band of pass-catchers, that's a problem.
The fact that Manning is going to be facing a weak New England defense is almost a bonus. The Patriots defense he faced four years ago wasn't elite, but it was pretty solid. Manning got the better of it anyway and was particularly impressive late in the game.
Against this New England defense, Manning may not need any late-game heroics. He has the edge and he could quickly bury the Patriots if their defense isn't at the top of its game.
Make no mistake, Manning isn't going to do the Pats a favor by playing a bad game. He's going to be at his best and the pressure will be on them to keep things in striking distance for Brady and the offense.
If it comes down to a showdown between Manning and Brady, I'll give Manning the edge.